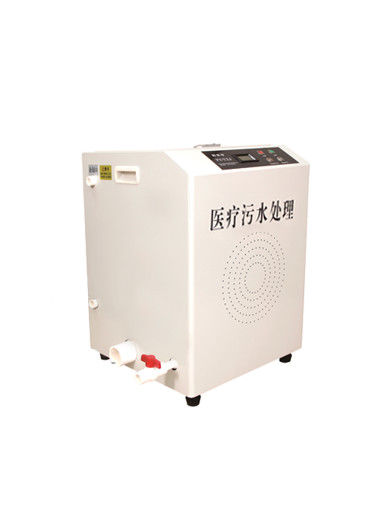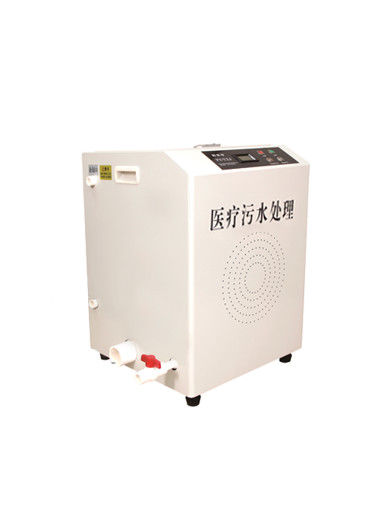 Medical Sewage Disposal Device
[1. Product Name] Medical Sewage Disposal Device
[2. Model] FS.YXJ218 (sheet metal)/FS.YXJ228 (stainless steel)
[3. Scope of application] It is suitable for sewage treatment in medical, laboratory, dental clinic, cosmetology and pet clinic.
[4. Product Overview, Principle] This product uses corona method to extract ozone from air, and injects ozone into the sewage which needs disinfection and sterilization through air pump and blaster, so that the concentration of ozone in water can achieve the effect of disinfection and sterilization. No noise, no secondary pollution, long service life, advanced technology, high degree of automation, no need for full-time duty, good treatment effect, small area, easy operation and management, etc., according to the national environmental protection department requirements of sewage discharge standards [Medical Electrical Equipment Part 1: General Safety Requirements (GB 9706). 1-2007)] Design and production.
The product is controlled by micro-computer and has the function of automatic delay. That is to say, when the lifting pump does not work for five minutes, the ozone generator will stop working, so as to avoid the ozone generator being in working state all the time. The work of the lifting pump is to start when the sensor detects the sewage, and to lift when there is water. Water is disinfected and sterilized, so that the concentration of ozone in sewage reaches the level of disinfection and sterilization, and then it is discharged and circulated in turn.
[Technical parameters]
More Source Input:AC 220V/50Hz

Flexible Universal Form: Ozone Killing

Intake Mode: Self-priming Intake

Making Method: Time Control/Liquid

Using Raw Materials: No Raw Materia

Material: Sheet Metal/Stainless Steel (optional)

Specification

One Drag

Three

One Drag Six

One Drag Twelve

Dimension mm

L420*W480*H500

L420*W480*H600

L520*W580*H680

Operating Power (with Pump)W

230

300

400

Net weight kg

26.5

28

38
[Installation and use instructions or illustrations]
1. Installation method: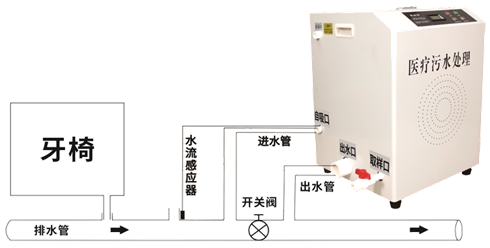 2. Operation process: turn on the power supply turn on the red switch of the power input port on the back of the equipment (panel has voltage display, power indicator lights on) turn on the panel "main power supply switch" turn on the "ozone switch", and the equipment enters the working state.
[Notes, Warnings and Tips]
1) The outer shell of the equipment is made of sheet metal (or stainless steel). Waterproof should be paid attention to, and rain and extrusion should be prohibited.
2) Before using this product, Please add 100 ml water to the "lifting pump" (self-priming pipe) before using it. The overflow should not exceed the height of the intake of the toothchair.
3) Electronic inductor: a protective film is affixed, which needs to be torn off before use, and installed in a position about 1CM high from the sewage surface (can not be put into the sewage); if sewage flows through after electrification, the electronic inductor can sense the sewage, and the sewage disposal device can suck itself to run and treat the sewage;
4) The water tank is cleaned once a week to keep the inside of the machine clean.
5) If it is found that the equipment does not work, it is necessary to check whether the ozone power supply, the connection of the ozone generator tube and the circuit are normal.
6) Transportation Conditions: Lifting and handling must be light to prevent the extrusion of heavy objects and prohibit liquid from entering the box from the surface.
Storage conditions: Storage should be in a well ventilated, non-corrosive gas warehouse, to avoid open-air exposure or direct rain and snow shower;
The ambient temperature is - 10 ~40 and the relative humidity is less than 80%.
[Standard Configuration]
Number of Goods Name

quantity




Number of Goods Name

quantity

master

1

PC tube:ø20

2

Three-plug power cord

1

fuse

1

water inlet;:ø20

1

key

2

exhalent siphon:ø50

1

instruction

1

PC Converter Connector: 50 to 32

1

Qualification Certificate

1

PC Switch Valve:ø20

1

Product Report

1
【Explanation of Graphics, Symbols, Abbreviations, etc. Used in External Labels】

Fragile, Careful and Handle 

Note that reference is attached

Put it up

Avoid rain

Avoid sunshine
【Troubleshooting instructions】
Fault

Reason

Elimination methods

Self-priming lifting pump does not absorb water




No water diversion in pump

Adding diversion water to the pump

Pump body damage

Replacement of self-suction pump

Pipeline Leakage

Check the sealing condition of pipeline, if loosened, tighten properly

Overflow at the front end of the equipment

Unreasonable setting of running and stopping time of self-priming pump

Increase the running time of self-priming pump and reduce the stopping time

The effluent volume decreased significantly.

Filter clogging

Backwash the filter

Ozone odor is strong between equipments

Reduced pipeline sealing

Check pipeline seal after ventilation, if loosened and properly tightened

Ozone-free mixture generation

Disconnection of connecting pipeline between air pump and ozone machine

Reconnect the pipeline, tighten to ensure that the connection is firm

Damaged air pump does not work

Contact the manufacturer for replacement and maintenance

Trouble of Power Supply for Ozone Machine

Contact the manufacturer for replacement and maintenance

Motor fault

Replacement or maintenance of motor

Control panel keys do not respond

Loose or disconnected line connection

Contact the manufacturer for replacement and maintenance

Damage of keys in control panel

Contact the manufacturer for replacement and maintenance
Description: The above fault and elimination methods include all possible faults of all product models in this series, which may be different from the specific product model formulation used by users. Specifically, the actual configuration of the user's product should be taken as the criterion.
For more information, please pay attention to Hemao-HOM.
Or call directly: 0757-81806011, we sincerely provide you with satisfactory service!